Noosa Lakes Resort offers a range of rooms to suit all tastes and budgets.
Noosa Lakes Resort offers a range of rooms that will suit all budgets, and tastes. The resort comprises 94 dual key two bedroom townhouses. Each townhouse can be split into a Studio on the lower level with a One Bedroom Apartment located on the top level of the townhouse. 
Our Lakeside rooms are located on the shores of the beautiful Lake Doonella with all other apartments overlooking our large lagoon pools or manicured gardens.
Studio rooms are ideal for an overnight or shorter stays for travellers looking to explore the Noosa region. The Studio apartments provide a small kitchenette with tea and coffee making facilities. Please note that due to the fire regulations that govern our Resort no cooking or toasting facilities are included in the Studio rooms. With a variety of food options right on our doorstep at the Noosa Marina our guests are spoilt for options. 
Our One bedroom apartments can cater for smaller families with many rooms featuring a fold-out sofa bed. The one bedroom apartments offer a seperate bedroom from the main living area and kitchen which does provide for cooking.  
The Two bedroom apartments or two bedroom dual key townhouses are perfect for families or small groups and provide all the comforts for an extended holiday in Noosa.
Deluxe Two Bedroom Apartment
Deluxe Two bedroom Apartments are renovated and offer one queen size bed in the main bedroom and bunk beds with a desk in the second bedroom.
Deluxe One Bedroom Apartment
Deluxe One Bedroom Apartments are renovated to a higher standard and offer superior comfort and styling with the all the amenities and convenience of our one bedroom apartments.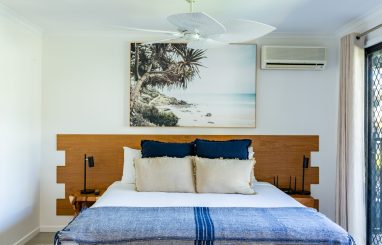 Deluxe Studio
Deluxe Studios are renovated to a higher standard but offer the same layout and amenities as our other Studio's including television with chromecast and wifi available in each.
Two Bedroom Dual Key Townhouse
Two Bedroom Apartment is a combination of our Studio and One Bedroom apartments in the same townhouse. Perfect for larger families or two couples. 
One Bedroom Apartment
One Bedroom Apartments offer a comfortable separate bedroom, open-plan lounge room, bathroom, balconies, television, and shared laundry.
Studio
Studio Apartments offer one queen size bed, with ensuite, balcony, television, a kitchenette and a shared laundry.
Can't decide on the room that is right for you?
For more information on our rooms, or to make a special request, please contact reception today and we will be more than happy to accommodate.
NOOSA LAKES RESORT
Resort Features
Take a closer look at the Noosa Lakes Resort features and you will see why this is the perfect place for a weekend away, or fun family holiday.
LATEST DEALS
Special Offers
Find out about our exclusive accommodation offers for your next holiday at Noosa Lakes Resort in the world famous Noosa River region.
NOOSA HEADS REGION
Locals Guide
We have selected a few of our favourite cafes, restaurants, bars, shops, places for exercise and leisure, and of course – the ocean.